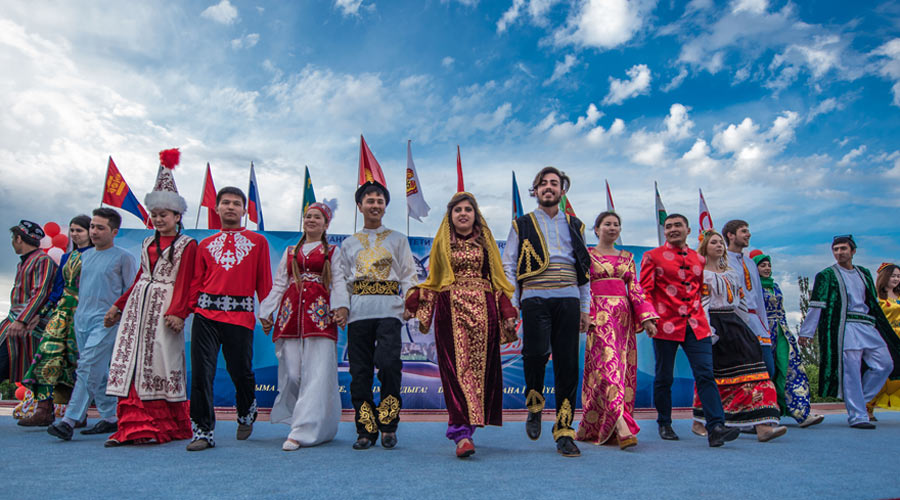 Student dormitories of the Kyrgyz-Turkish Manas University replace a warm home for students, where they can feel like they are in a caring mother's embrace. Students living in the dormitory feel the peace, safety and comfort of the family house. Considering the facilities and services provided, our dormitories are shown as the best in the country and are a model for others.
We want our students to become well-rounded and developed individuals, so our dormitories are not only a place to live, but a place with lots of sporting, cultural, and social events for students. These events include poetry readings, discussions, theater performances, celebrations, informational meetings, excursions, and sporting competitions. Thus, students from all around the Turkic world can get to know each other, make new friends, and learn new languages.
Our dormitories, which are shown as a sample in Kyrgyzstan composed of 3 blocks with 5 educational facilities on 100 students. There are also sports halls, theater rooms, a library, an Internet cafe and a student cafeteria, open until 23.00 every day. In the A-block, spots are considered for 472 girls and 208 boys; in the B-block for 208 girls and 256 boys; in the C-block for 234 girls. Here our students have the opportunity to get to know each other's languages, cultures, religions and customs closely, as well as make their unbearable contribution to the future of the Turkic world.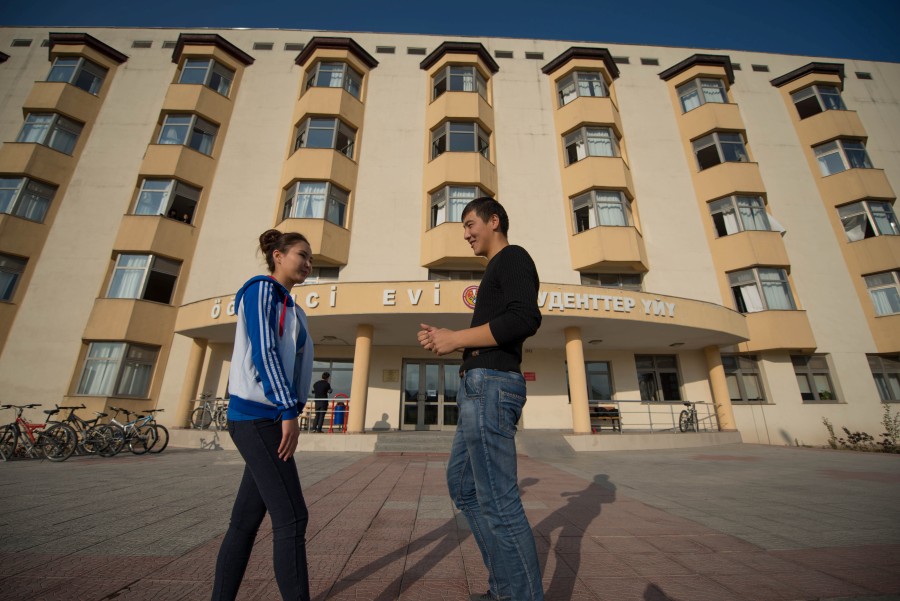 The dormitory staff have years of experience and offer a wide-variety of high-level services. For preparatory students who come from other countries of the world, places in the student dormitory are provided out of turn and without any points being scored. Students who are not studying in the preparatory year, but who received high scores on entrance exams and have a high academic performance are given priority for the remaining spots. Generally, a student's academic performance after the first year and a student's behavior if they lived in the dormitory before (did they follow the rules, did they participate in events, etc) taken into consideration. After evaluating a student and taking into consideration all plusses and minuses, students are given a score. Spots are given to students with the highest scores according to available spots (more information about student dormitories can be found in the KTMU Dormitory Guidelines). If students cannot afford to stay in the dormitory, then there is financial aid available.
Taking into account the financial situation of our students, the monthly cost of living in the B and C blocks of the dormitory is 1200 soms, and the monthly cost in the A block is 1500 soms. In addition, a deposit of 2500 soms is charged, which is returned to the student upon leaving the dormitory.
Each room of the student dormitory has its own toilet and bathroom. And in the laundry for 25 soms per kilogram, students can give their clothes for washing, and also use ironing services for free. In addition, students' bed linen is washed free of charge every two weeks.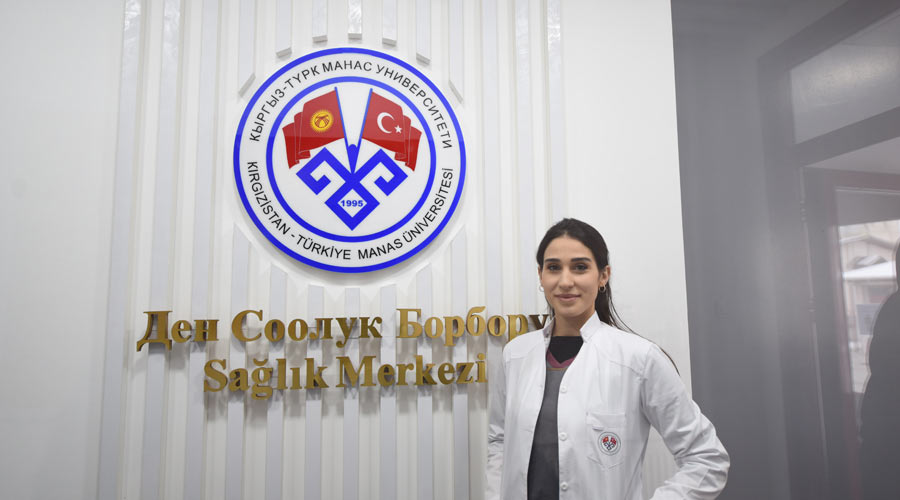 The Health Center: The newly modernized health care center and the newly established COVID-19 Diagnostic Center are equipped with the most modern equipment and offer students an excellent service. Our new laboratories make it possible to receive high-quality health care services.
The Counseling & Student Development Center, KTMU Central Library offer uninterrupted service to our students.
Artificial turf football fields, installed rubber ground, volleyball and basketball courts, sports facilities, indoor sports hall are also available for students. The cafeteria and canteens are open from 8:00 until 23:00. Students staying in dormitories can have their lunch and dinner for 70 KGS at the dining hall of the KTMU Social Facilities.
Students are allowed to watch Turkish TV channels and Turkish Super League football matches at the canteen. Besides, our students can have a meal, have a rest and read books at the Students' Cafe.
"Oba" teahouse which was opened in 2021 offers excellent service for all staff and students with its warm and peaceful environment. Furthermore, many exhibition event are held in the art galleries that has been opened this year and offer a great exhibition opportunity for our young artists. In addition, the renewed and developed green campus area creates a calm environment away from the noise of the city and allows our staff to work in a more comfortable social area.
Students have an opportunity to pray in the dormitory prayer room as well as in the Saltuk Buhra Khan Mosque which is located on the campus.
Students of the KTMU are responsible for cleaning their rooms, cleaning of the hallways and public areas are done by the janitorial staff of the contracted companies. Safety and security services in the Chyngyz Aytmatov campus are provided by the Security Associates of our university.